Screaming Frog is one of my favorite SEO tools. It is a powerhouse and my mainstay when it comes to technical SEO.
It is a paid tool but the free version is sufficient for smaller websites.
The user guide and tutorials on the Screaming Frog website are very resourceful and always help me in digging deeper into the data.
In fact, you can tweet to the Screaming Frog Twitter handle and they will help you out with the right resource.
But then there are some tips and hacks that are not written anywhere but are useful in some unique scenarios.
Below are some of my favorite Screaming Frog tips that can help you in your technical SEO journey.
How to Find Duplicate Keywords in All Your Titles?
It is not a good practice to use the same word twice in your URL or Title. Finding duplicate words in your title throughout the website is easy from your latest crawl from Screaming Frog. You will need to use regex in the search box
[Title 1] Matches Regex '(Varsity)(.*\1+)'
How to Track if Competitors have updated Content, Word Count, or Meta Data?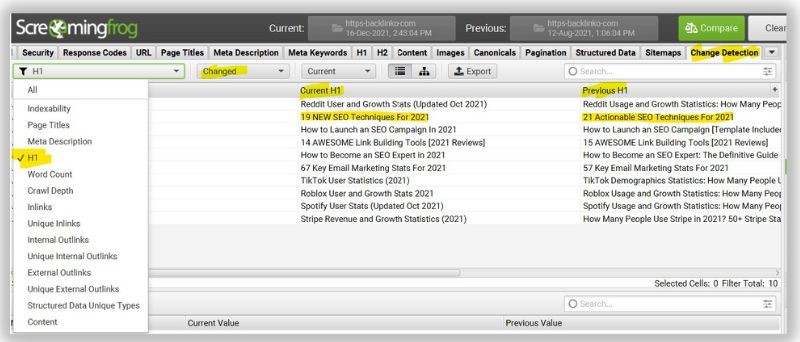 Screaming Frog can be an effective tool to track changes in the website of your clients or competitors. These can be changes in content, H1, page titles, word count, internal links, outbound links, and many more.
All you have to do is:
Make sure you are storing the crawls of your clients in the Screaming Frog database.
Now compare the last crawl with the fresh crawl.
Go to the "Change Detection" tab.
Select H1 from the filter dropdown.
Select "Changed" from the second dropdown.
That is it.
It will list down the H1 that has been changed.
You can similarly check other elements like word count, metadata, etc.