There is a lot of frenzy about Google's Helpful Content Update. A lot of panic and anxiety among the SEOs about this update.
The fear is real!
People actually deleted their content and blog posts from their websites so that they can escape this update.
Such was the frenzy for this update.
This update started rolling on 22nd August 2022 and took almost 2 weeks for a full rollout. Here are a few common questions related to the update.
Is it the end of AI content?
What are the future of AI content and AI tools?
Should you remove the content to be on the safer side?
What happens if you get hit by this update?
What is the future of On-Page SEO tools like Frase and Surfer SEO?
What is the role of search intent in the future?
Do PBN-supported sites, backlink sellers, and information content-centric websites that are solely monetized by ads, are going to be hit by this update?
Will you get a manual penalty for this update?
Does this update kill smaller sites, and we will see big authority websites ruling the SERPs?
Do we see a comeback of the traditional style of writing backed by thorough research?
Before we begin answering these questions, I will discuss the key highlights of this update and what it exactly means for us as SEOs, bloggers, and website owners.
As per the blog post by Google, it is divided into three major parts.
Focus on people-first content
If the searcher is searching for a certain type of information on a certain kind of niche, is your website the go-to option for them?
Assuming if you have any existing or intended audience for your business or your website. Do you think they would find your content useful if they came directly to your website?
These are the kind of questions you need to answer honestly.
Also, does your content clearly demonstrate first-hand experience and in-depth knowledge?
Your content should reflect that you have actually used the product or should demonstrate your expertise in handling that product or using the service.
The idea is that you cannot take a shortcut by copying the SERPs. Using similar headings, subheadings, and topics that other top-ranking websites are using, will not add value to the user.
There is a rise in the usage of tools like Frase and Surfer SEO that helps you determine top entities and topics in a matter of minutes. The content writers are just reframing the existing content or rewriting it using AI tools without adding any additional value.
There is no proof that you have actually reviewed that product or traveled to the place you are writing about. As a solution, adding a YouTube video to the blog post can be a good way to find more leverage in the eyes of Google.
If you go through Google's official product review guidelines for affiliate sites, the above points were already in place and this update just reiterates that again.
Most websites serve a primary purpose or write on a broader topic for their readers. The websites that write on all kinds of unrelated topics will struggle if you don't have any expertise or authority on those topics.
You cannot write all kinds of topics in the hope something will click for the Google algorithm.
If you have a new website and lack authority, you need to adopt a smart way of keyword research designed for new websites to build trust.
After reading your content, the visitor should feel satisfied learning about a topic. This can be achieved only if it meets the search intent of the searcher.
Avoid Creating Content for Search Engines First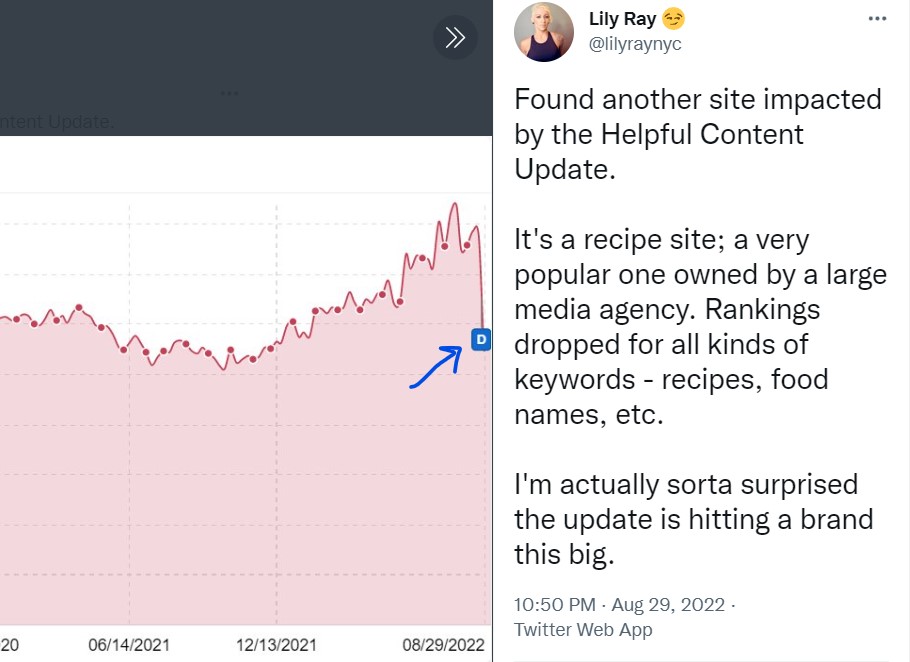 A lot of SEOs and affiliate websites are writing content majorly for search engines. The sole purpose of their work is to meet the needs of search engines.
You cannot select a website topic or a niche for your blog just because you know that there is a lot of traffic with many low-competition keywords. Lack of authority or knowledge in your content will make it difficult to climb SERPs.
There are very few people who are writing for actual users. Most of the content is for ranking on search engines. Google wants to prevent such websites from appearing in the SERPs.
While influencers use Instagram or YouTube to demonstrate they are reviewing a product for real, most bloggers are writing for search engines that fail to meet the new guidelines.
So if your content is all about ranking higher on search engines rather than helping humans, it is going to suffer.
A blog post mainly summarizing what other articles are writing without showcasing your own unique findings or value will be demoted.
In other words, after reading your post, readers are feeling they need to search again or get better information from other sources. It is not a good signal for Google.
The new guidelines clearly mention that a particular word count or increasing word count with something like a skyscraper technique is not going to help the website.
At the end of the day, do these things add any value? If yes, go ahead, and if not avoid relying on them.
The same rules are applicable to the use of AI tools for content generation. Right now AI tools use different methods to write content with information already available on the internet.
Honestly, AI tools cannot be used as the final draft for your articles as they add no value when compared to what already exists on the web.
I recommend using AI tools for creating the first draft and then a human should add more researched original information to make it a valuable piece of content.
Does your content promise to answer a question that actually has no answers?
Assuming there should be a release date for a product, a movie, or a TV show. Many bloggers show fake stats or data to make them look real or unique but actually, they aren't.
Google is suggesting that they are trying to pick up such patterns of creating content.
How does this update work?
As per Google, this update is a new site-wide signal and will be among many other signals for ranking web pages.
In a scenario, if you get hit by this update and your site has been removed. You are expected to remove unhelpful content, but it may take months before your rankings are back to normal.
It is also important to note that this will not be a manual action and hence it will not be visible in Google Search Console.
Google also mentions that it may rank unhelpful content if there are other strong signals, including identifying it as people's first content as helpful content.
There are situations when there is not enough content on the web, and they know you are not providing helpful content, but it might be a little help to people then they might show unhelpful content to its users.
This update impacts English searches globally as of now, but slowly it will be expanded to other languages.
Important Questions related to Helpful Content Update
What is the future of AI content and AI tools after Helpful Content Update?
The future of AI content and AI tools will be there. But it won't be as easy as it was. Most of the outputs by AI tools are unusable, but they can be a good starting point for a writer.
Human input will be required to do deep research. Based on that research, the initial output can be improved by adding more valuable inputs that the AI tool failed to add.
What happens if you get hit by a Helpful Content update?
I think it's not going to be a cakewalk. It will take a few months before you can recover from this but yes you can, and it will streamline a lot of your processes.
You won't be posting unedited 20 articles in a day using an AI tool.
You won't be having thin articles with great on-page SEO and assuming they will rank. You should unpublish your unhelpful content or at least start improving your content even if you have not been hit by the update as of now.
What is the future of On-Page SEO tools?
On-Page SEO tools will have to twist their algorithms. A recommendation of certain entities, topics, or headings can help you understand the search intent. But you cannot have the same headings and content rewritten that only manages to pass plagiarism checks.
These tools are helping you do your research on the SERPs, not the research as a whole on a given topic. Use them for basic research and then come up with your own ideas to do further research.
They can help you write better content briefs as they help you understand search intent better but then do your research to add your own value.
Are PBN-supported sites or link sellers going to get affected?
With the kind of content that is getting affected by this update, PBN sites or low-value sites will be hit hard.
PBN support to websites may not be that impactful if this update is as big as Panda or Penguin.
Are informational content-centric sites that are solely monetized by ads will be affected?
Yes, they will be, but maybe not as much as an affiliate website.
If informational content is a spin-off of what other websites are sharing, then the website will have a tough time ranking on most keywords.
Simply reframing and writing in your own words without adding any value is nothing but thin content.
So if your website revenue model is to produce informational content and earn from ads, you need to produce quality informational posts.
There are many websites that avoid affiliate content to stay away from getting hit by core updates. But with the addition of this ranking signal, your website will be under the radar.
Will there be a manual penalty in GSC?
Google has already made it clear that there won't be a manual penalty. It will be an algorithm-based penalty, and you will not get any notification in your Google Search Console.
In general, I have noticed Google is sending out fewer manual penalties. They don't want to devote their time dealing with review requests generated for clearance of manual penalties.
Does this update kill smaller sites, and we will see a big push for bigger websites?
I am not very optimistic about this.
Google will maintain the diversity of smaller and bigger websites.
But yes, it would be interesting to see if a Wirecutter is writing about knives to smart devices, and then they are also writing about protein powders.
Will this continue to work?
I assume this might not work because just because you are a big authority site that doesn't mean you can write on anything. Let's see what happens.
Do we see a comeback of a traditional style of writing backed by research?
I think yes.
If Google is promoting writing for your users, then research is a must.
You will have to research your content and come up with new original ideas and findings.
Conclusion
This update will help in producing better results for end users. A search engine should provide the best possible information for searchers. If they are happy with the results, Google will grow and can sprinkle more ads.
High-quality search results will help Google earn more.
It will be good for the SEO industry and in general for people otherwise, people will stop relying on Google slowly. It may not happen in a year or two but over a period of time.
Google is trying to safeguard itself from that situation.