Have you written excellent SEO-optimized content but still struggle to rank?
Something is missing from your arsenal. The use of content optimization tools would help. Content optimization tools are available on the market that makes things easier. Among the SEO community and content writers, Frase and Surfer SEO are favorites. 
Although both have happy customers, most people find it challenging to choose one. 
When there is so much positive feedback and reviews, how does one decide which is the right one for your needs?
Having tried both tools, I decided to share my thoughts and outline some of their significant advantages and disadvantages.
By pitting all the key features against each other, I have made a detailed comparison. Depending on what you need, there may be features you do not need or features you will need.
Let's take a look.
Key Differences: Frase Vs Surfer SEO
| Frase | Surfer SEO |
| --- | --- |
| Basic subscription starts from $39.9 (30 posts/month) per month on an annual payment | Basic pricing plan starts from $49 (10 posts/month) per month on an annual payment |
| Proprietary NLP analysis across all plans | Basic plan has only a 1-month trial for NLP. |
| UI somewhat average | UI is intuitive and easy |
| Topic cluster creation is not available | Automatic Topic cluster creation |
| Keyword data, backlinks & AI writer are available as an SEO add-on for $35/per month | Keywords and backlink data available across all plans |
| Excellent Frase AI writer (part of SEO add-on) | No AI writer is available. |
| Automated content briefs | Not available |
| Manually find opportunities and keywords losing impressions | AI-powered Grow Flow connects to GSC and sends weekly content gaps |
| Does not integrate with Jasper and Semrush | Integrates with Jasper and Semrush |
| Internal link suggestions | None |
How does Content Optimization Help in SEO?
Content optimization tools help you rank better in organic search. But it is essential to understand that there don't use any magical algorithms that will make your blog post better and it will start ranking.
These tools automate your manual task of analyzing what is in the SERPs.
They suggest relevant keywords, keyword density, and terms that improve the topic coverage and proprietary content score/topic score. But just adding certain terms will not boost your ranking.
These indicators are more towards pushing you to write better and more informational content. Such articles have more chances of getting SEO traffic.
Both these tools give you content ideas as well as suggestions on headings and subheadings. I use these suggestions and it has helped in organic traffic.
Content Brief
Frase helps you in your content creation journey from start to finish. It enables you to research and creates content briefs from scratch.
The content brief can be created manually by the drag-and-drop feature or can be created automatically by the software. This is one of the powerful features of Frase that keeps me coming back.
With Frase, you can create intent-based custom templates for different kinds of articles. This helps in faster and better content briefs.
In comparison, Surfer Seo lacks automated content brief creation.
It does allow the creation of a brief in content outline builder that is like Frase. But the flow in both the content creation tools is different.
Content Planning
Surfer Seo has a flow similar to other SEO tools like Semrush. It starts with content planning using keyword research.
You start with the seed keyword. It will help you find target keywords that you can move into the content editor. But, Frase expects you to start with document (content brief) creation by analyzing SERPs. It does provide domain authority and backlink data (available as an add-on) in the SERPs. But does not have a proper keyword research tool
Topic Clusters
One of the key features of Surfer SEO is topic cluster suggestions. Frase lacks it completely.
As an SEO consultant, I always recommend covering the topic from every angle. In SEO, topic clusters are crucial.
Surfer automatically creates topic clusters in the content planner. With the tool, you can get relevant information such as keywords, estimated traffic, and keyword difficulty. This is an excellent tool to use if you aren't currently using any other topic clustering tool.
AI Writer
Frase AI writer is an add-on at an extra price with good usable output. Surfer completely lacks AI-based content generation.
Surfer has support for integration with Jasper AI. If you are already subscribed to Jasper AI writing assistant then integration makes it a powerful combination.
UI
The ease of UI/UX can be subjective. I like Surfer SEO's speed and refinement. However, Frase has made improvements in this regard in recent months.
There is often a change in the layout of Frase's user interface, including the position of buttons and tabs. If the UI is constantly changing, it adds a bump to the experience.
Content Auditing
For on-page SEO audits, both tools provide solid data points.
Surfer has shown better recommendations when NLP is activated. Both tools highlight areas of improvement in the content. These can be over or under the use of words or phrases as compared to SERPs.
Surfer assigns NLP entities labels in its recommendations. These are very helpful as using these entities will help Google to understand the content better. Frase does not do such tagging instead it clubs them based on long tails, clusters, or top topics.
Collaboration based Features
There is not much to choose from when it comes to collaboration. You can add your team member but there is a cap based on the plan you choose.
They both allow a shareable link with others who are not team members. They have their own WordPress plugin and Google Docs integration in case you don't want to use the native editor.
Pros and cons of Frase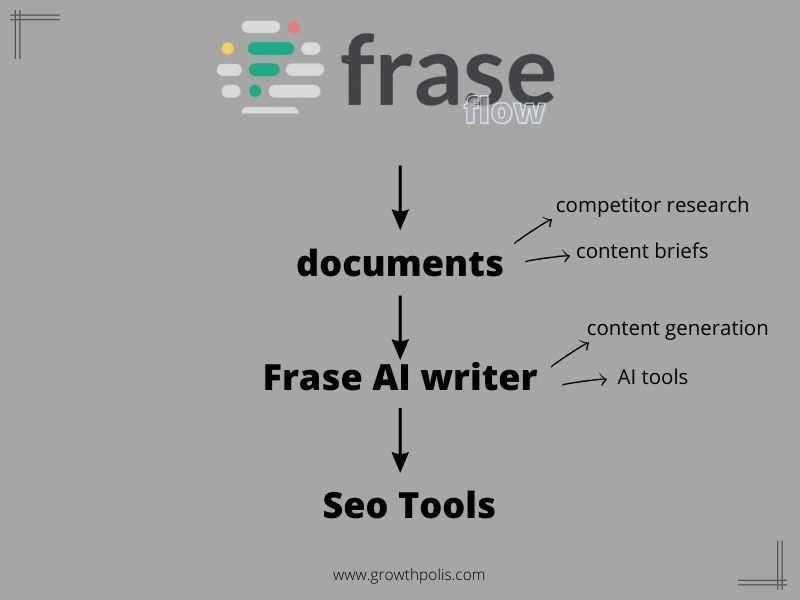 Pros
Creating high-quality content briefs for content writers
Affordable
Good AI writer.
Cons
Lack of clarity on NLP entities recommendation.
UI and document management are average.
Pros and cons of Surfer SEO
Pros
Excellent content planner.
Includes Keyword research tool
Topic clusters
Better NLP capabilities.
Cons
Poor content brief workflow
Expensive.
Surfer SEO vs Frase Pricing Comparison
The monthly subscription cost is vital in decision-making. Frase is relatively cheaper and allows more document creation.
But if you are an agency or with high usage, the cost and the benefits under their business plan are very similar.
They both have customization options if you want to use them for more than 10 websites or 70 articles. 
Surfer is a powerful tool when you are using its NLP but the basic plan has that feature as a trial for the first month only. Surfer makes more sense if you opt for the pro plan at $99/month (annual payment).
Frase offers unlimited documents when compared with Surfer's pro plan which offers only 30 documents.
Which Tool is Best for You?
In my opinion, if you are an enthusiast blogger or one who does not blog often Frase's basic plan will make more sense.
When you get into the business side of blogging or long-form content, you need to decide based on your workflow.
Frase with its AI writer is a nifty single tool for faster SEO-optimized articles. And if you already own an AI writer or start a new website, a content planner from Surfer SEO will speed up your content generation process with the help of topic clusters and NLP-based recommendations.