You bought a domain.✅
You bought hosting.✅
You have successfully set up a WordPress theme.✅
It is a blank slate. You feel confused about where to start.
You want to start writing content for your new website, but it can be overwhelming and confusing to decide what topics you should address.
If you are thinking about writing on topics close to your heart, I recommend you read the entire post and then take a call.
You need to do keyword research on the topics so that you exactly know what people are searching for and how many visitors can come to your website looking for this information.
On the other hand, if you are starting an affiliate website you will be finding it difficult to decide where to start looking at the competition in your competitor analysis.
Today, I will share a Keyword Research Strategy that will help you rank easily as well as build some authority in your niche in less than 6 months.
Let us try to understand
What is a Keyword Research?
Keyword research is a method of finding keywords that people are searching for in Google or other search engines. Keyword research helps you identify what keywords are being explored and how many people are searching for them every month.
Why Keyword Research is Important for a New Website?
Keyword research is vital because it helps you understand the intent, value of keywords, and their volume. This will help you write with precision and the correct information that searchers will be looking for.
When a blog post meets the search intent of the visitor, it sends positive signals to Google. The more positive signals you are sending, the better it is for SEO.
You should do a quick competitor analysis using tools like Frase and Surfer SEO. Alternatively, you can do it manually by going through the SERPs.
Once you are done with the analysis, you can create a content brief. It will help in setting the guidelines and topics to be covered by the writer.
Keyword Research Strategy
Keyword research methods are a rage. But only experienced SEOs understand that keyword research strategy is way more important than a given method or SEO tool.
What is the difference between Keyword Research Method and Keyword Research Strategy?
Ideally, both should be the same. But with so many content creators around the meaning has changed in the last few years.
Keyword research methods are more centered on how you can use a specific SEO tool to find keywords in your niche. Keywords research strategy is more about formulating a strategy to rank faster on topics and keywords. It has a minimal role in how you use any SEO tool.
So let's get into the strategy breakdown of the keyword research for a new website.
Step 1: Brainstorming
I learned the significance of brainstorming late in my career. I had a preconceived notion that brainstorming was a waste of time. I am glad that I was able to step out of this mindset. I urge you to include this step and refrain from skipping it.
Write down the main niche or topic at the top and start writing the main categories you can think of. There are no right or wrong answers. All you need to do is put everything on paper.
You can use Excel or mind mapping software. I prefer the Canva whiteboard for mind mapping.
I am using an example of a Coffee Affiliate website. This is how my mind map looked after a brainstorming session.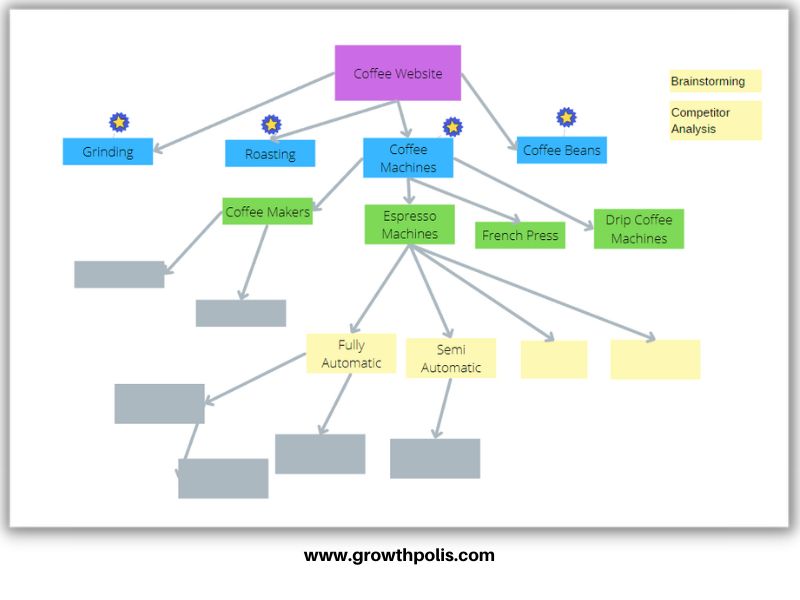 The ones with stars are the major categories I can think of. Each category will be followed by topics and sub-topics.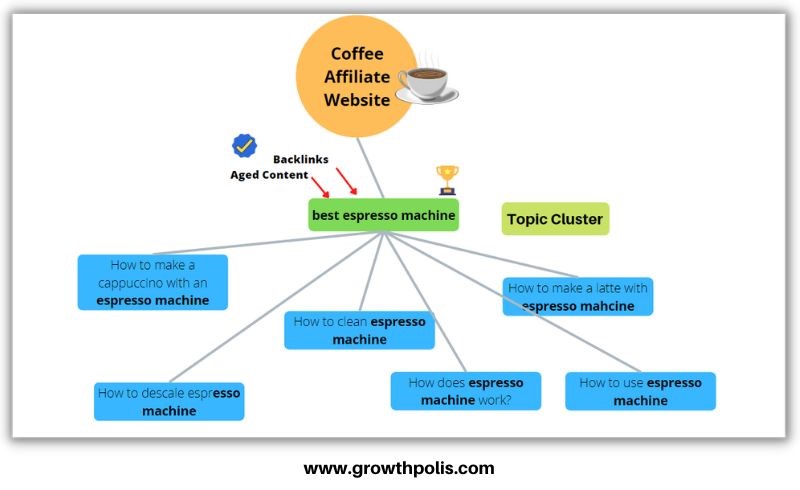 The mind map helps you see your website shaping up virtually. You can easily see topic clusters or content hubs. All in a matter of a few minutes.
I highly recommend using mind maps in problem-solving and coming up with good ideas.
This step also involves writing down who your competitors are. Write down their names.
Once you are done brainstorming and have reached a point where you cannot come up with new ideas. It is time to move on to the next step.
Step 2: Competitor Analysis for KYC (Know Your Competitors)
Competitor analysis is a must to find the missing links in the previous step. It will help you find missing categories and topics.
The tree in the previous illustration looked incomplete and will begin to take better shape once you start filling it with key missing topics you will find from your competitors.
Step 3: Identify Topic Clusters or Content Hubs
In this step, you will identify nodes on your tree that have diverse branches beneath, like Coffee Machines is a perfect example in this case. These nodes can easily be made into pillar pages or topic clusters that will be an in-depth resource for that topic.
All the sub-nodes or branches will be interlinked to this pillar page to mimic our illustration.
Another way to cross-verify if you are picking up the right topic clusters is to check monthly volume in SEMrush.
Step 4: Keyword Research
This is the step where you will start doing keyword research. The keyword research will be based on a topic rather than on your niche. This is important, and I will list its advantages.
Consider an espresso machine to be your topic cluster. You will find all the keywords related to espresso machines. List down all the commercial, navigational and informational keywords.
Put all these keywords in the mind map and complete the topic cluster with relevant branches or keywords.
Repeat this step for each topic cluster.
Why does this strategy work?
Before we look into the advantages. Let me share some thoughts.
There is a lot of buzz about zero volume keywords and low competition keywords. It is a go-to strategy for newbie SEO consultants and associates.
I am not against such keywords, but most people miss out on creating a strategy around them. They feel using such keywords for writing content is an SEO strategy.
That's a problematic approach.
I highly recommend using these keywords in your topic clusters, but don't shy away from writing on high-competition keywords.
Make your topic clusters a mix of all types of keywords.
In your topic cluster, "best espresso machines" will be a high volume and high competition keyword. Only high authority websites with some good backlinks will be ranking in the SERPs.
You will have to build backlinks and website authority to rank in this keyword. So most SEOs will get discouraged to write an article on this keyword on a new website.
But I will suggest you should write on such topics.
The key component of this strategy is to complete each topic cluster. Write all articles in a topic cluster and then move on to the next one.
This will help you build authority on each topic. It will also help you rank better and faster on all the keywords related to this topic.
And when you start ranking on a topic cluster, it will help you build authority and trust in the eyes of Google.
You will rank more easily in the other topic clusters.
Further, when you rank for a low competition keyword, a visitor enters into a customer journey.
If he is impressed by this article, he may search for anything related to espresso machines, including "your" recommendation on which is the best espresso machine.
Imagine if you have not written an article on the "best espresso machine", you may lose an opportunity to make a sale.
He will leave your website unsatisfied and disappointed. The trust you built with an impressive article will be broken a bit.
Also, high competition keywords don't rank instantly on new websites. You need to allow some aging so that Google can build trust in the quality of content.